If you're thinking about buying your first home, it's good to be close to a city that has all of the amenities and characteristics that you want out of life. However, recent economic growth and an increasing wealth divide has made some cities and their suburbs expensive and overcrowded.
Fortunately, there are several cities and metropolitan areas across the U.S. that are currently experiencing both job growth and a cultural rejuvenation. In this article, we'll cover the top 10 up and coming cities to move to.
 1. Colorado Springs, CO
An hour drive from Denver and two hours to the mountains, Colorado Springs is a rising alternative to the Denver Metropolitan area. It is home to several high ranking colleges and the unemployment rate is low. Best of all, Colorado Springs is a highly affordable place to live.
2. Portland, ME
Portland is a small coastal city but is packed with restaurants and the arts. It's proximity to the ocean and affordability make Portland a great place to move to. There's also a thriving do-it-yourself scene, an emphasis on green living and repurposing old infrastructure.
3. Indianapolis, IN
Indianapolis combines affordable living with in-demand amenities like shopping, professional sports teams, and highly sought colleges. It's also home to the biggest sporting event in the country, the Indianapolis 500 auto race.
4. Nashville, TN
Nashville and its surrounding suburbs are experiencing growth and demand for their rich musical culture and history as well as their affordability and short commute times. Residents of Nashville often rank it as being a great place to live, and if you trust anyone it should be the people who are there 365 days a year.
5. Grand Rapids, MI
Grand Rapids has the industry and infrastructure of a large metropolitan area but maintains the affable nature of a small, midwestern town. Grand Rapids is known for its large public waterway on the Grand River as well as its close proximity to Lake Michigan.
6. Houston, TX
Just an hour's drive to great beaches on the Gulf of Mexico, Houston boasts a beautiful skyline and a rich cultural heritage, especially when it comes to food. Houston is also the home to several national companies and homes in the area are relatively affordable since Houston wasn't largely affected by the housing crisis.
7. Raleigh, NC
The Raleigh metropolitan area is home to several competitive research universities and the population is booming with nearly 80 people migrating to Raleigh each day. Affordable housing and a stable but increasing job market make the Raleigh metropolitan area a highly desirable place to live.
8. San Jose, CA
Silicon Valley shows no signs of slowing as major companies like Google, Apple, and Facebook, continue to expand. One problem residents of the area will face is growing real estate prices and a shortage of housing, but living in both a technological and a natural paradise might be worth it for the right people.
9. Sarasota, FL
Beautiful beaches and year-round warm weather attract retirees to Florida each year. But Sarasota also offers a large and growing job market in healthcare, tourism, and hospitality.
10. Salt Lake City, UT
Salt Lake City is within driving distance of several national parks, holds close proximity to mountains, and is nearby Utah's Great Salt Lake, the largest salt lake in the Western Hemisphere. Salt Lake City has a growing job market, a low unemployment rate (2.8%), and low average commute times.
Making the decision to buy your first home is a big step. One of the most uncertain parts that's involved in buying a home is that of securing a first-time mortgage. You'll need to know what types of programs exist to help you on your journey to homeownership. Even if you have owned a home in the past but are now renting your home, you may be eligible for first-time mortgage benefits. 
The first thing you should do is understand your options for getting a mortgage. The Department of Housing and Urban Development often provides you with agents to help you see whether you will, in fact, qualify for a first time mortgage and all the benefits that go along with it. They may also help you to see exactly what programs will work best for you. You can find agencies in your specific area on the HUD website. 
Each state and local municipality have its own resources for those seeking to buy a home as well. These programs may get more specific, helping low-income earners, first-time home buyers and people with disabilities. Of course, you'll need to meet certain eligibility requirements before qualifying for the programs. Your state and local housing offices are other great places to start when you're searching for benefits for first-time home buyers.   
Save, Save, Save!

 
Even before you think you might be ready to buy a home, you need to start saving. You'll need a significant down payment, especially if you're hoping to avoid private mortgage insurance or PMI. If you can't swing a 20% down payment, there's good news: First-time home buyers are eligible for loans that require a lower down payment- as little as 3%! 
You'll also need a significant amount of savings to pay upfront for closing costs. These fees can come in somewhere between 3 and 4% of the purchase price of the home. It won't be very pleasant if your bank account is completely empty by the time you reach the closing table. This is why it's a wise idea to save long before you even think you might want to buy a home.      
Look At Your Finances
In the same light of saving money, you'll want to keep your financial health in check in order to prepare to secure your first mortgage. First, check your credit score and see where you stand. You can take the time to dispute any discrepancies you may find on your report. Then, start paying off any credit card balances that you may have. Remember that the higher your credit score is, the better your chances are of securing a mortgage and being approved for a first-time home buyer program.
If you ride through the suburbs of America, you'll likely notice that the houses just seem to get bigger and bigger. Like our taste for large trucks and SUVs, Americans tend towards the idea that bigger is better.
On the opposite end of the spectrum are people who feel quite the opposite. From this minimalist mindset has emerged the "tiny house." What exactly is a tiny house?
There is no exact definition. However, most tiny houses are built on wheels--to adhere to local building code--and typically don't exceed 500 square feet in size.
You might be thinking that's a bit extreme. And you wouldn't be alone--Americans have taken advantage of small homes in the form of modular homes, and cottage-style houses for decades.
With the cost of heating and powering a home rising year after year, it's beginning to make sense to downsize.
So, in this article we'll talk about what it means to live in a smaller home to help you decide whether it's a good choice for you.
Barriers to building small houses
If it's your dream to someday build a small house on a hilltop in your hometown, you might have to face-off with the local zoning committee first. Some of the biggest barriers to building smaller houses are local regulations involving minimum house sizes.
This isn't a new problem, with towns struggling with the idea of minimum square footage as far back as the 1970s. In spite of this barrier, small house and tiny house proponents have been finding loopholes.
One such workaround involves simply building your house on wheels. However, that isn't easy to do and it doesn't always look great either.
Living simply
Depending on your hobbies and philosophy, living in a small house can be a good or a bad thing. Those who seek to become more minimal in their belongings often find that small houses help them achieve this.
The more things we own the more we have to worry about storing and maintaining them. However, if you value experiences more than objects, living in a small house could save you money and therefore leave you with more funds for traveling and other experiences.
Family is another thing to consider when living in a small house. If you have a large family or pets, living in a small house can be difficult. However, there is something to be said about growing up in a small house (it makes it harder for kids to avoid their parents by playing video games in their room or the basement!).
How to decide if you can manage living in a small house
If you're downsizing from a larger home it can be scary to lose all of that extra space you were used to. There are a few ways to see if you can adapt to a smaller home, however.
You could rent a small apartment while you search for a new home. This will allow you to acclimate yourself to living in a smaller environment.
If you don't want to go through the trouble of signing a lease, there's always renting a small property through AirBnB or a camping cottage for a few weeks. Then you'll have time to notice what you like and dislike about the smaller space and will be able to plan for how to want to deal with those changes if you decide to move into a smaller house.
This listing recently sold for $730,000.
Just Sold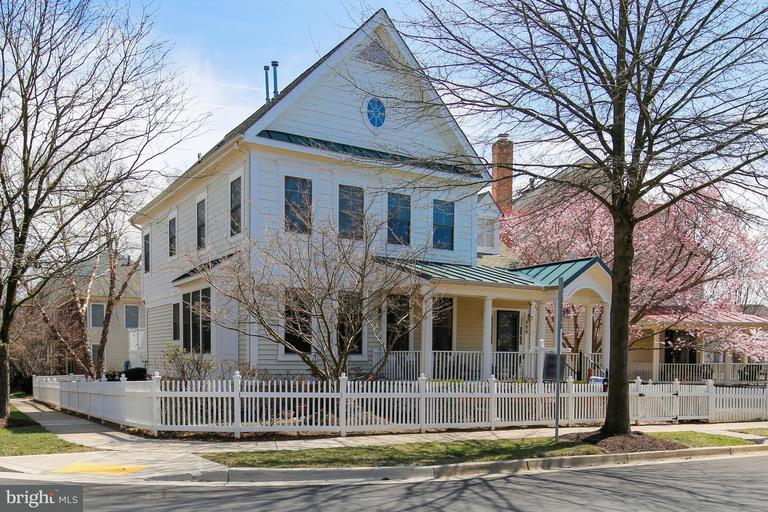 Welcome Home! Your new home is powered by solar energy & has a back-up generator. This is a rarely available gem of a home in the much sought out subdivision of King Farm & has a white picket fence and covered entryway that is just the beginning of this turnkey Colonial. Don't miss the open floor plan w/ beautiful hardwood floors. Possible 4 bedroom in lower level w/ full bath!
There are few things for a home seller that are more stressful than the home inspection. You hope and pray that everything will come out a-OK in your house so that your buyers will want to continue with the sale without asking for too many contingencies. There's a few simple things that you can do to make sure your home inspection goes smoothly. The good news is that these tasks won't cost you a lot of time or money. A few simple actions can save you a lot of grief in unnecessary service calls. Check out these tips to help you get through the home inspection with flying colors:
Check Your Light Bulbs
If you have a light bulb that's simply burnt out, that could prompt the need for a check of the entire electrical system in your home. Avoid a costly visit from an electrician just by checking your light bulbs and replacing them where necessary. 
Check Your Air Filters

 
The air filters in your home can be easily neglected and be a big problem in the home inspection process. Even if a filter looks a little gray, take the time to replace it. You should check your air filters and furnace filters for any potential problems like tears or excess dirt. For bonus points, you may want to just replace the filters before the inspection no matter how little dirt they have on them. Otherwise, a clogged filter can be a sign that your furnace or heating and cooling system isn't working properly. 
Check Your Sinks
A few dollars spent on some drain unclogging chemicals is a few hundred dollars potentially saved on a plumber. Fill up your sinks with water and see how they drain. If they're a bit slow, get the chemicals that you need to work on unclogging the drains (such as Drain-o). If there's a funny smell coming from the drain, be sure to address it. Lemons also work wonders on everything from drains to garbage disposals. Even some baking soda and vinegar can help to clean a drain wonderfully. 
Fix Major Repairs Before Your Home Goes On The Market
If you know something pressing needs to be fixed or replaced in your home, be sure to fix it before the home even goes on the market. It's much easier to take care of things before a buyer's contingency and a time limit is involved. Although you may be hesitant to spend the money, you should replace certain appliances, fix the roof, or address that creaky floor before the "For Sale" sign even goes out front.